From the CEO's Desk 20 March 2020
BUSINESS RESILIENCE AND CONTINUITY: TheShire is aware that while events over the past week or so have had an impact, we are working as a team to review our processes and practices to ensure the health and wellbeing of our employees and the community and the continuity of core Shire services that are essential for the quality of life on Cocos.
Based on our discussions and best advice from the Administrator, EMC and Health Professionals, we have developed a Draft Business Resilience and Continuity Plan for Council review.
From the CEO's Desk 06 March 2020
CANBERRA VISIT: Meeting with Assistant Minister Nola Marino. The Shire President, the Administrator and I visited Canberra for a meeting with Assistant Minister Nola Marino. We had a very long and productive meeting and would like to thank the Minister for being so generous with her time especially during parliamentary sittings. We had a lengthy discussion on the DI proposal as the Minister had a number of questions to which we were pleased to provide detailed responses.
Disability Access and Inclusion Plan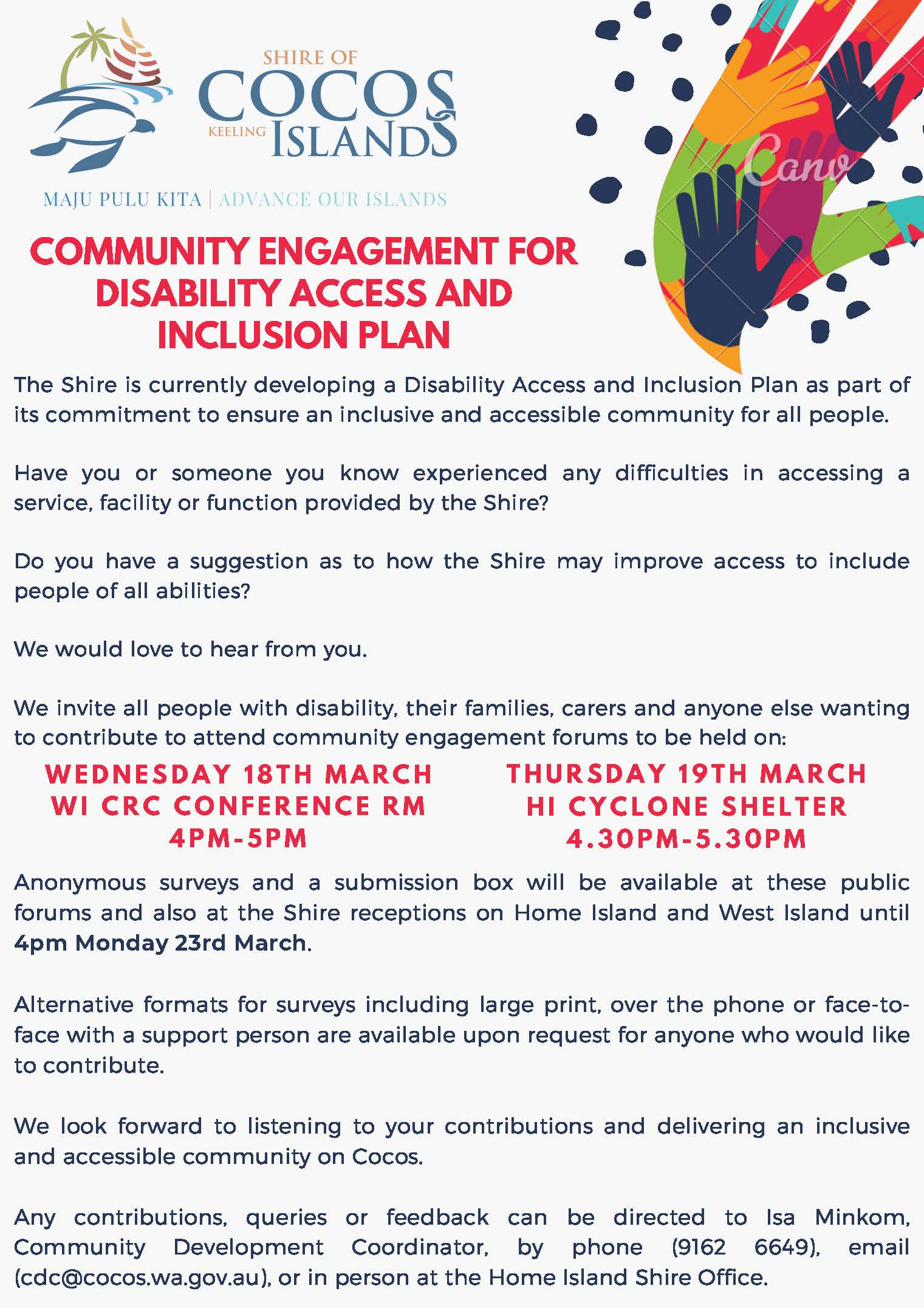 From the CEO's Desk 21 February 2020
BUILDING PROJECT OFFICER: We are delighted to welcome Bulka Raptikan to the team as the Building Project Officer. Bulka has commenced work on a project plan for the construction of a house on Home Island. Bulka will be working with the Housing Reference Group to finalise a design within the budget we have for this project.
From the CEO's Desk 7 February 2020
NEW ADVENTURES FOR IAN EVANS: It was with a very heavy heart that Ian, our much-loved Works Manager, tendered his resignation from the Shire. Ian has been with the Shire for over 5 years and in that time has shown time and time again his strong commitment to the community. He always goes well above the call of duty to make sure our community gets the best service possible.
From the CEO'S Desk 24 January 2020
2020 – AN EXCITING YEAR AHEAD: It is hard to believe we are well into the new year. 2020 promises to be another exciting and busy year with lots of projects on our calendar. The team at the Shire believe that we will have our best chance of succeeding if we work together with our community. That does not mean we will all always agree or that we will always get everything right. What is more important is that as a Shire we engage effectively and are very open to constructive feedback to help us move forward.
From the Acting CEO's Desk 12th December 2019
DI RESORT – PUBLIC SUBMISSIONs: At the 4th of December Ordinary Council Meeting Council considered the formal request from Cocos Boronia Resort Pty Ltd to lease land at Direction Island for a resort. Council resolved to advertise its intention to dispose of property as per requirements under the Local Government Act.
From the Acting CEO's Desk 28 November 2019
COMMUNITY FUNDING PROGRAM: Applications for the latest round of the community funding program closed on the 4th November. The Community Funding Program Committee met on the 18th November to assess the applications. Grants have been award to West Island Playgroup, Home Island Jukong and Sailing Club and West Island Sport and Recreation. The Community Funding Program is advertised twice per year so keep your eye out for the next round.
From the CEO's Desk 14 November 2019
NOVEMBER COUNCIL MEETING: At the Council meeting on 6 November, Council set the meeting schedule for meetings in 2020. A reminder that Council meetings are open to the public, so we warmly invite community members to attend to see your Council at work. Agendas and minutes of meetings are also available on the Shire's website so you can easily follow Council decision-making.
From the CEO's Desk 31 October 2019
ELECTION RESULTS - COUNCIL ELECTIONS 2019: By now most people will be aware that Jamil Ibram and Mazlan Hamiril are our newly elected Councillors and that Seriwati Iku was re-elected. Congratulations thank you to all candidates, including Kenneth Zakaria Lakina, for your interest in serving your community.