Notice of Proposed Disposition of Property Part Lot 100 West Island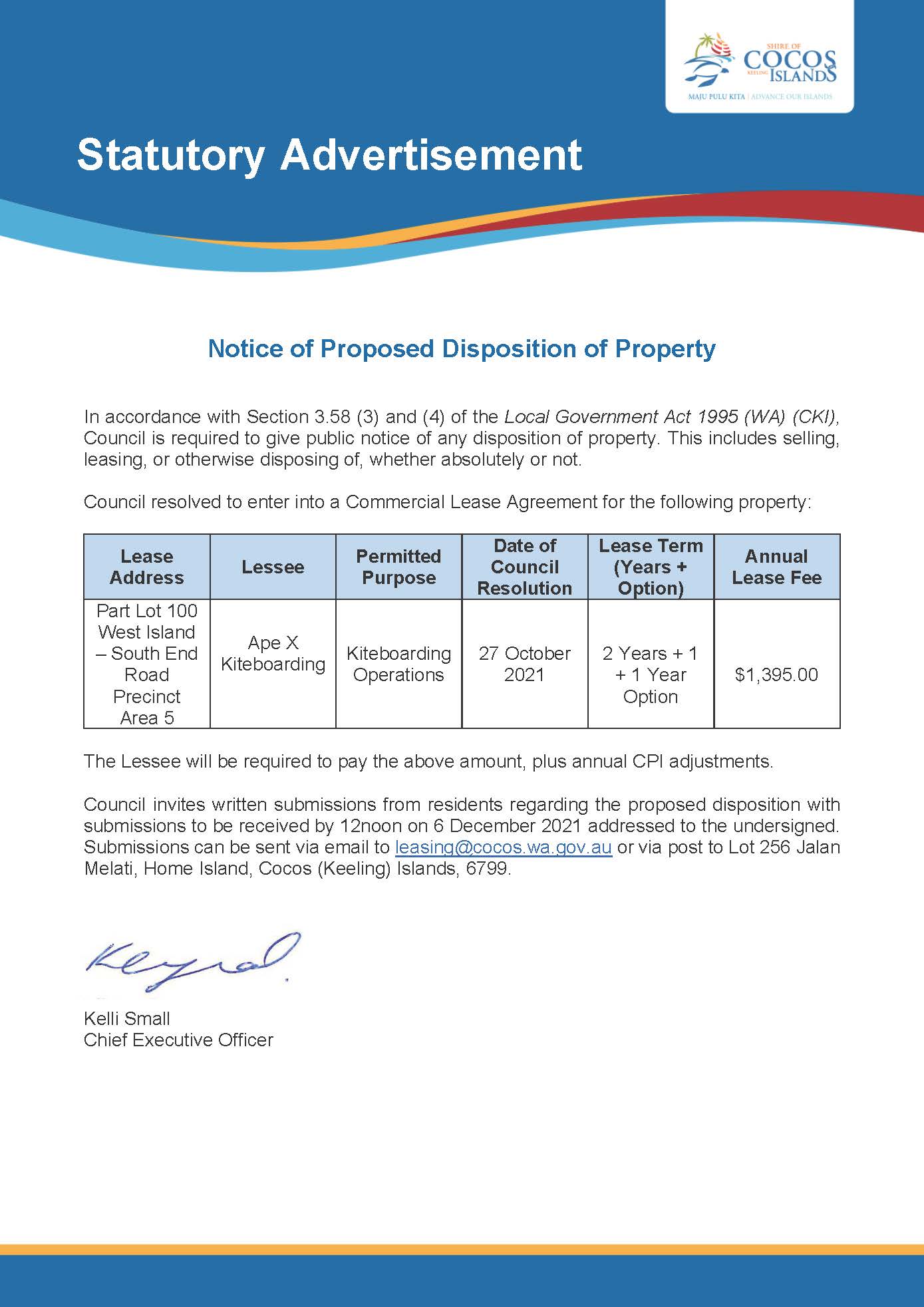 Public Notice - Notice of Special Meeting
Public Notice - Cancellation of Special Meeting
Public Notice - Notice of Special Meeting
NOTICE OF INTENTION TO LEVY DIFFERENTIAL RATES
Public Notice - Notice of Special Meeting
From The CEO's Desk 12 March 2021
TRANNIES BEACH ACCESS: In the coming days, Trannies Beach will be a bit of a construction site as the Shire crew install a ramp to provide safe access to the beach. The ramp is a temporary solution until steps that can withstand the heavy swell can be designed and built for our conditions. We really appreciate how understanding and patient the community has been. Please take care around the construction site and observe signage and barricades.
From The CEO's Desk 26 February 2021
FIRST ORDINARY MEETING OF COUNCIL FOR 2021: Council commenced the year with a busy agenda for their February meeting. The following items were considered:

1. GRANT APPLICATION FOR OLD WORKSHOP / TOKOH ON HOME ISLAND: Council approved a grant application for funding of $1.5 million and committed Shire funds of $500, 000 to restore the old Workshop/ Tokoh on Home Islands. This two-storey building has enormous heritage and aesthetic value and it would be great to see it restored and repurposed.
From The CEO's Desk 12 February 2021
BUILDING BETTER REGIONS FUND (BBRF) APPLICATION TO RESTORE THE TOKOH / OLD WORKSHOP ON HOME ISLAND: The Australian Government has announced a grant opportunity under BBRF that provides the Shire with an opportunity to secure funds to restore the Old Workshop/Tokoh on Home Island. If we are successful in our application, funds would be used to refurbish this important heritage building which would then be used to house a new, well positioned visitor centre, museum and a commercial retail space.
From The CEO's Desk 29 January 2021
WELCOME TO 2021 AND TO PEOPLE NEW TO OUR COMMUNITY: On behalf of the Shire President, Councillors and Staff, please accept my warmest wishes for a happy, safe and prosperous 2021. If you are new to Cocos, we are excited to welcome you to our Cocos family.
As a Shire we have a very busy and productive year ahead and are keenly looking forward to working in partnership with our stakeholders and community members. By working together, we can achieve so much and make Cocos the best it can be in the coming year.