BUDGET 2020/2021: Council adopted the budget for this financial year at their meeting on 05 August. The budget priority is to support local employment via a number of infrastructure projects.

The highlights of the budget include:
a. no increase to rates and a reduction in the rate in the dollar for Holiday Accommodation;
b. a carried forward surplus of $1,098,796;
c. an end of year position (Net Current Assets) of $1,907,041;
d. a capital works program of $3,351,536;
e. transfers of $874,317 from reserves and a transfer of $427,250 into reserves.

Council has also given much consideration to balancing provision of new infrastructure, identified and prioritized in the Maju Pulu Kita Masterplan, with the need to look after our existing infrastructure and improve our environmental sustainability.
See below for the full list of infrastructure projects.
In addition to the capital works, Council has approved expenditure on a number of one-off projects that enhance social, cultural, environmental and economic sustainability and strengthen our governance.
We would like to invite our stakeholders and members of the community to our budget presentations to hear details of the budget and gain a better understanding of how community funds are being managed.

Budget presentations will be held on:
1. Wednesday 12 August at 4.35pm – Home Island Council Chambers; and
2. Thursday 13 August at 4.15pm – West Island CRC Conference Room.

Anyone interested in knowing more about the projects planned for the coming year and to learn more about the financial management of the Shire is very welcome to attend. If you cannot make these sessions and would like to discuss the budget, please don't hesitate to contact me.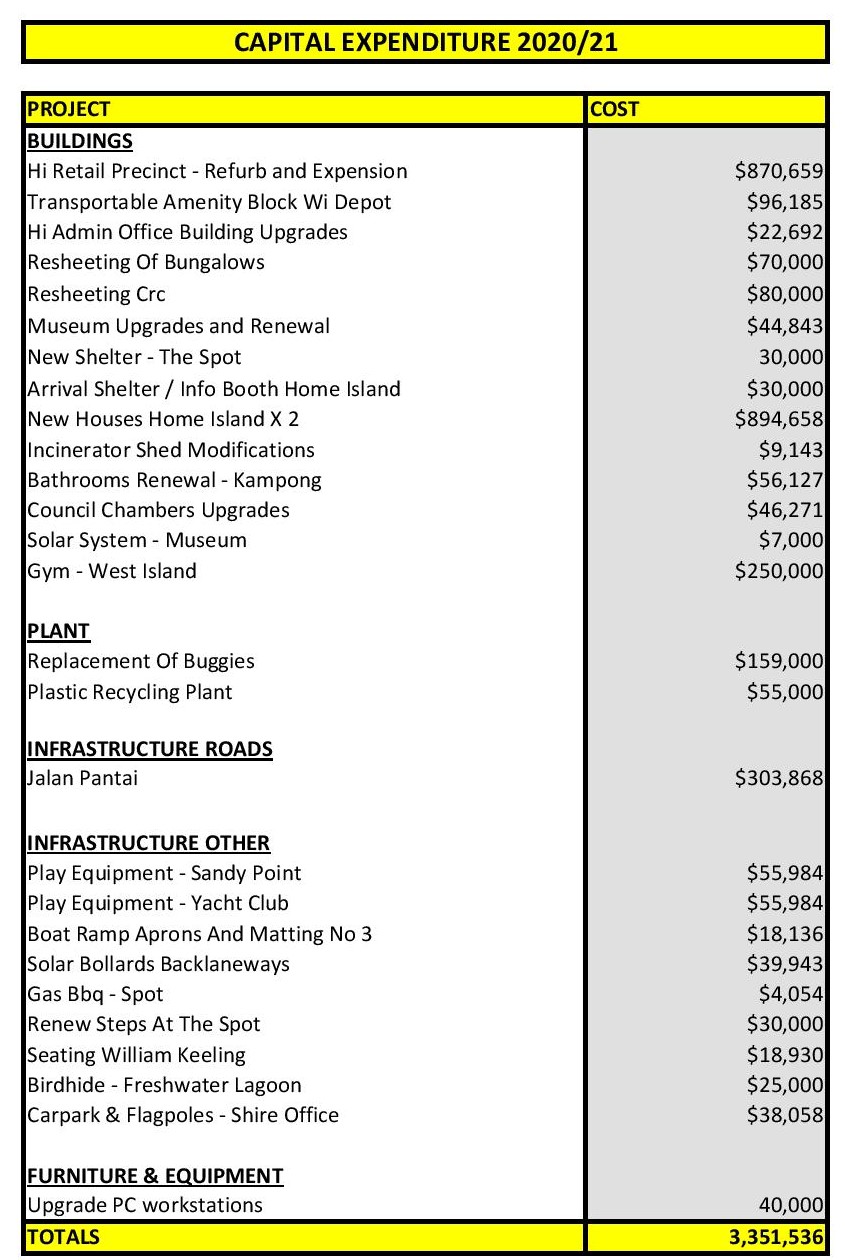 ECONOMIC STIMULUS FUNDING: The announcement by The Hon Nola Marino, Assistant Minister for Regional Development and Territories, of economic stimulus funding for Cocos (Keeling) Islands (CKI) was welcome news. The Shire is delighted to partner with the Australian Government to deliver several of these projects to the community. The Australian Government funding, along with the Shire's matching contribution, will allow two new homes to be built on Home Island, the first new houses to be built since 2004. Funding will also allow for the Home Island Retail Centre to be refurbished and expanded, another project that has been a long-standing priority for this community. Both projects will provide a wonderful boost to the economy via employment opportunities and will result in lasting social outcomes that will benefit our community for many years to come. We offer our sincere thanks to Minister Marino and our Administrator, Natasha Griggs for their ongoing support and tireless efforts on behalf of the CKI community and look forward to bringing these projects to fruition in the coming year.

ADOPT-A-SPOT PROGRAM: At their meeting on Wednesday this week, Council also made a small but important change to the Community Funding Program Policy. The Policy now requires all applicants to have participated in the Adopt-a-spot program before applying for Community Funding Grants from the Shire. The Adopt-a-spot program engages community groups to undertake clean-ups at a site of their choice in the community whilst receiving cash rewards for every bag of rubbish collected. The program not only provides community groups with funding assistance but also an easy way to do something simple to look after the environment and helps increase public awareness of the effects of littering. Sites include but are not limited to roadsides, streets, parks, trails and beaches. Participants will be provided with equipment and support. To find out more about this great fund-raising initiative, please contact Isa Minkom at the Shire.

JUKONG SAILING CLUB: Congratulations to everyone at the Jukong Sailing Club for their efforts in tidying up the area surrounding the Club. It looks fabulous.

These are just a few items I thought would be of interest to our community. Please contact me to discuss these or any other Shire matters.


Andrea Selvey
Chief Executive Officer