It has been a busy fortnight at the Shire and I hope the following provides an interesting summary of a few of the things we have been working on.
November Council Meeting
Council's November meeting was held on West Island and Councillors were very pleased to see so many people in the gallery. Thank you to everyone for attending and for your interest in Council process.
At this meeting Council resolved to apply for funding from the Building Better Regions Fund (BBRF) for two very important and exciting projects - the Home Island Retail Centre and the Cocos CV project. I have provided a brief summary on both projects in previous editions of the Atoll but anyone wanting to know more about them is very welcome to contact me.
Council also settled on dates for the 2019 Council meetings and resolved to alternate between Home Island and West Island. These dates are advertised in this Atoll. A reminder that members of the public are very welcome to attend and observe your Council at work.
Trannies Beach was the subject of an Elected Member Motion and Council resolved to allocate funds to reinstate sandbags and tidy this much loved community area before the end of this year.
After much consideration Council highlighted the areas that they would like their CEO (me) to focus on for the coming year and formally set KPIs to ensure we move in that direction. I am more than happy to discuss these priorities with any member of the community interested in knowing what the organisational focus will be for the coming year.
Senior Leaders Presentation To Council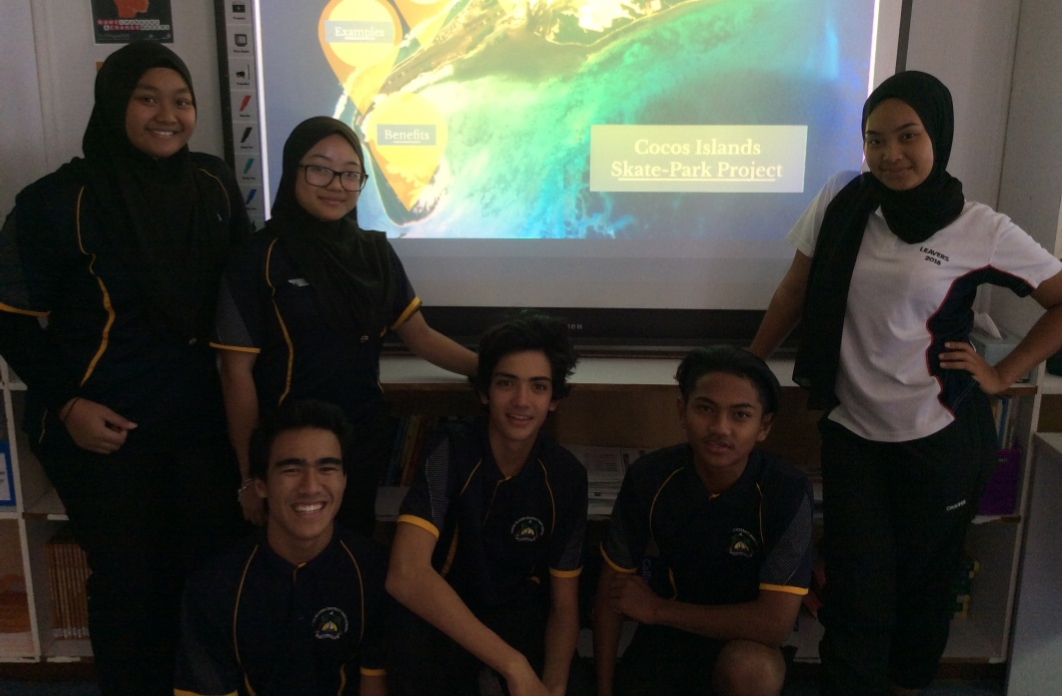 Council was delighted to welcome the Cocos District High School Senior Leaders to the November Council meeting. Lihah Shakirin, Nabiya Mohd Noor, Aleeya Arkrie, Denzel Whichello, Shaqueal Boekelman and Azrul Azah were great ambassadors for their school and young people. They presented a very professional and well-thought through request for Council to consider a skatepark in Council's corporate planning process and made a very convincing case.
As a result Council has agreed to consider a skatepark in its corporate plan. Congratulations Senior Leaders.
Welcoming New Faces At The Shire
The Shire is pleased to welcome Adim Hajat and Suzie Bulka as our Customer Service Relief Officers. Adim and Suzie will be providing support when our permanent staff are in training and other team exercises. We look forward to working with Adim and Suzie.


Direction Island Rip Deck
The Rip Deck on Direction Island has been refurbished and is looking sensational.
Well done and thank you to the team, Brian Cree, Kenny Arkrie, Hj Hajat Sloan on doing such a great job.
Fundraising Idea
A reminder that Council has funds to pay community groups to help with clean-up of rubbish around main community areas. These funds can help community groups with their initiatives while at the time helping to keep our community clean and tidy. The Shire will assist by providing some personal protective equipment (PPE) and will allocate an area for the clean-up.
Please contact the Shire to find out more about how this program can work for your group.
Community Funding Program
Community groups seeking to run events or festivals in 2019 are invited to apply for shire funding via the community funding program. Applications close on 23 November so apply now.
If you would like to learn more about this great opportunity or to get an application form, please don't hesitate to contact Luluk Sloan, our amazing Community Projects Officer.
35th Anniversary Of The Act Of Self Determination
With this exciting milestone on the horizon we have commenced brainstorming with community organisations to ensure the celebrations reflect the significance of this date in the history of Cocos.
Thank you to everyone who participated in the brainstorming session. Please contact us if you would like to be involved.
Food Safety Training
Reminder - anyone wishing to know more about food safety and the requirements for preparing food for commercial sale or community events, please register by contacting Luluk at the Shire.
As always, we would welcome questions or feedback on these or any other Shire matter so please don't hesitate to contact me.
Andrea Selvey
Chief Executive Officer