Farewell and Thank You Nek Yusri
Nek Yusri has been a valuable member of the Shires outside work Force for the past 15 years. Over that time he has been involved in many projects that the Shire has undertaken. He was a skillful operator on a variety of plant and machines and took great pride in his work. He has also been responsible for the dally maintenance on both West and Home Islands.
It has been a pleasure to work with Nek Yusri, and he will be dearly missed by management and his work colleagues.
Enjoy your Retirement Nek Yusri.
Community Fundraising Idea
Council has allocated funds in the 2018/19 budget for community (not for profit) groups to raise funds via community clean-up events. This fundraising idea is a win-win; community groups can easily and quickly raise funds for their activities while at the time helping to keep our community clean and tidy. The Shire will assist by providing some personal protective equipment (PPE) and will allocate an area for the clean-up. Please contact the Shire to find out more about how this program can work for your group.
Corporate Planning Day
Councillors and staff came together as one team on Wednesday 17 October in a workshop to discuss the actions we can take to bring the Community's vision, as outlined in the Strategic Community Plan (SCP), to life. We considered actions under the four themes of the SCP being Social, Environmental, Economic and Leadership. The draft plan will be made available for community review in the near future.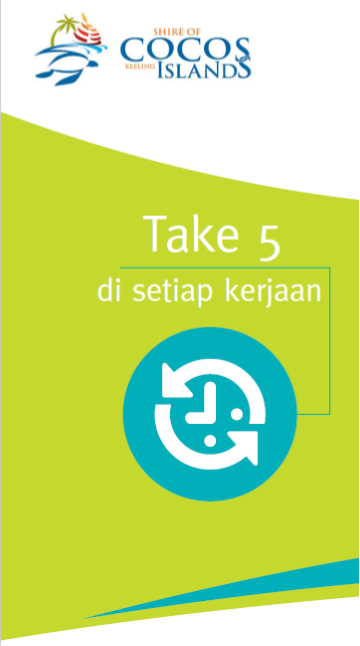 Speaking of Safety...
An exciting development in our Occupational Health and Safety journey has been the translation of our Take Five booklets into Cocos Malay so we now have bilingual material. Congratulations to Isa Minkom for successfully undertaking this complex translation task.
Cocos CV
Members of the community will recall the visit from the Department of Defence in September to discuss the airport runway upgrade. The key themes emerging from the discussions were the importance of local employment opportunities and engagement with local businesses. The Department recommended that we are proactive and promote ourselves and our capacity and capability to prospective contractors. To do this, the Shire, with the invaluable support of the Regional Development Organisation, is applying for grant funding to put together what we are calling the Cocos CV. The Cocos CVwill showcase local capabilities (individual job seekers and local businesses) to prospective contractors.
The Department of Defence has provided in-principle support to include the Cocos CVin their tender documents. We will provide more detailed information if we are successful with our grant application but in the interim, if you would like to know more, please don't hesitate to contact me.
Direction Island
The Shire has commenced work on DI to clear track that were overgrown. Please bear with us as this work is completed.
Home Island Incinerator
Residents may have noticed we have been carrying out more open burning of waste on Home Island. This is unfortunately as a result of having to do some critical repairs to the incinerator. We are aiming to get this work done asap so we can resume using the incinerator. We are also looking at options to recycle more materials on Home Island to reduce the overall amount of waste that is burnt. Individuals and households can assist by considering the own waste and how they can reduce the amount they take to the tip. More on this topic in the coming months.
Council Meeting 7 November
The November Ordinary Meeting of Council will be held in the CRC Conference Room on West Island. The meeting will start at 4pm on Wednesday 7 November and is open to any member of the public who would like to see how Council's decision-making process works. Items on the November agenda will include:
Skatepark Petition – Council to receive the petition from Senior Leaders from the Cocos Island District High School for a Skakepark;
Home Island Retail Centre – final consideration regarding a BBRF grant application for this community facility;
Cocos CV – a discussed earlier, final consideration of our grant application for a Cocos CV;
CEO KPIs – formal adoption of KPIs to guide the CEO (and organisation) priorities for the coming year; and
As we do every month, we will present the year to date financial statements and accounts paid under delegation.
The Council agenda will be on the Shire's website from Friday if you would like to know more about these items – alternatively I would be more than happy to discuss the agenda with any member of the community.
The above items are just a few of the matters your Shire and Council are working on at the moment. While it is simply not possible to detail every item in this article, we try to select those items we think are of most interest or relevance to the community.
We are open to questions or feedback on these or any other Shire matter. Please contact me at the Shire office.
Andrea Selvey
Chief Executive Officer